Teff can be used as a substitute for any flour in pastas, breads, pastries, cakes and puddings. Below are just a few suggestions of recipes using teff. Amazon is a great source for cookery books that include the use of teff flour and for those with special dietary needs.
Rakhee's Recipes using Injera/Enjera
Layered Vegan Sourdough Pizza
Layer the injera 5-6 times with pizza sauce in between each layer to make the base.
Add toppings as required and bake or grill.
Indian style 'Kadhi'
Cut the injera into small pieces by hand and let them sit in plain yoghurt with some cold water to
thin the mixture and a little sugar.
In a saucepan, simmer some oil and add cumin seeds and a few mustard seeds until they pop.
Add the yoghurt soaked injera into the oil and add salt to taste, a pinch of turmeric and green
chillies. Stir and simmer for 5 mins or until boiling point and turn off heat. Let sit to thicken up and
enjoy.
Fried Injera chips
Cut injera into small pieces and fry in butter. Leave to cool down and add salt/pepper/chilli
powder/mitmita according to taste.
Injera Burrito
Warm up injera and unroll.
Add chopped avocados, steamed rice, fried kidney beans, hummus, tomatoes, chopped coriander,
sprinkle a pinch of salt, pepper and lemon juice. Roll up and enjoy.
TEFF MUFFINS MAKES 8
Ingredients:
½ Cup Brown Sugar
1 1/2 Cups Teff Flour
1/2 Cup Arrowroot starch
1/2 – 1 tsp Baking powder
1/2 tsp Cinnamon
1/4 tsp Salt
2 Eggs
1/2 Cup Olive Oil
3/4 Cup Water
1/2 Cup Chopped Hazel Nuts
1. Pre heat oven to 400°
2. Grease muffin pans
3. Combine flours, arrowroot, baking powder cinnamon and salt
4. Mix eggs, olive oil and water and add to flour mixing quickly. Add nuts.
5. Fill greased muffin pans ¾ full. Bake at 400° for 25min.
TEFF PUDDING SERVES 4
Ingredients:
1 Cup cooked and cooled Teff grains.
1 Cup Tofu.
2 to 4 tbsp Honey or Maple Syrup.
1 tsp Vanilla extract.
In a blender combine tofu, maple syrup (or Honey) and vanilla extract. Blend until smooth and light. Pour cooked and cooled teff grains and tofu mixture into a bowl. Mix thoroughly, cover and chill.
Variation: Add bananas, raisins or other fruit.
TEFF PORIDGE SERVES 1
Ingredients:
2ozs/50g Teff Flour.
Plant Based Drink or Cow Milk
Using a thick-bottomed saucepan, stir the dry teff flour in the pan over the heat until it starts to smell as though it was roasting. Stir in water or milk gradually until the porridge is boiling with desired consistency, turn down the heat and leave for 5mins. Serve with milk, maple syrup or Honey.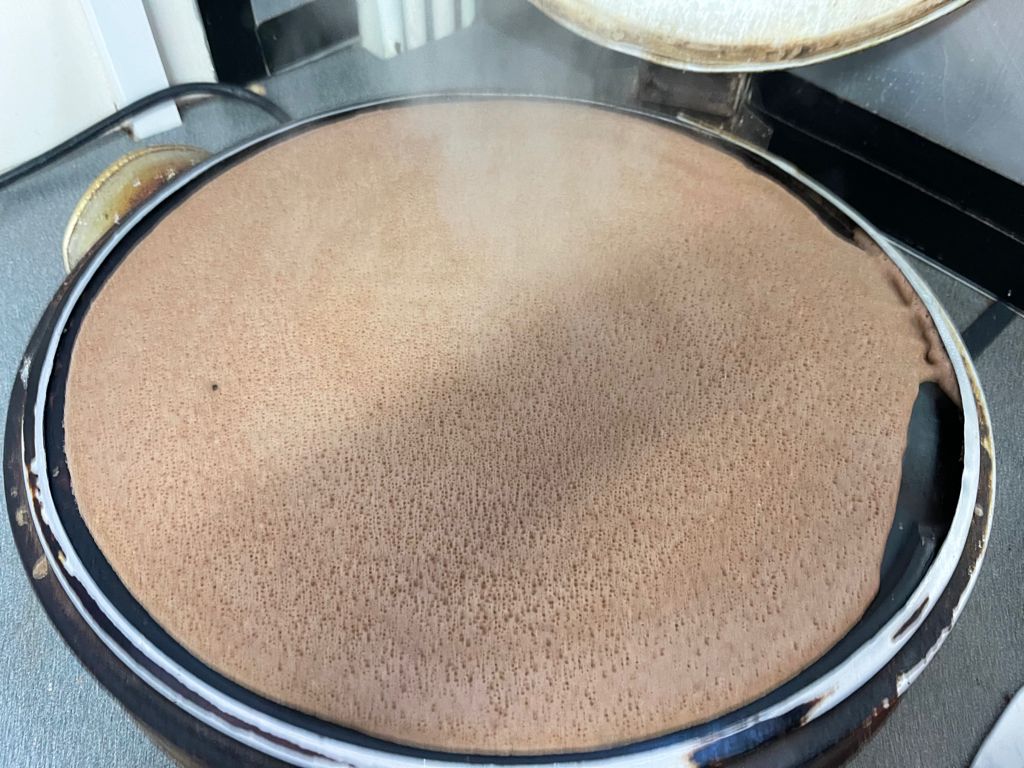 TEFF ENJERA
Ingredients:
1kg Teff
1-1 1/2 pts of water
Mix the water with the teff flour until it has the consistency of a traditional pancake mixture, cover and leave for 3 days in a warm place to ferment. (fermentation times may vary according to the weather).
On the fourth day, bring a pint of water to the boil then mix in 1/2pt of the fermented mixture, simmer for 6-7 minutes stirring constantly (that is making your own yeast). Whilst the yeast is still hot pour it back in to the original fermented mixture and stir well then cover and leave it overnight in a warm place after which the fermented dough will be ready to bake.
It is important to remember that teff is a tropical grain and the fermenting time may need to be extend when then weather is cooler.
To bake the teff you need a Metad (earthenware flat pan similar to a paella pan) but any large flat bottomed non-stick pan will do. Heat the pan, then pour the fermented dough around the pan evenly and in circular motions to the thickness of a thin pancake, cover and cook for 60-90 seconds approx. The cooking time will vary slightly depending on the thickness.