Description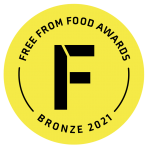 Packed with Nutrition
With this loaf, you'll not only be able to enjoy the nutritional benefits of teff, which contains iron, calcium, fibre, protein and much more. You'll also gain great benefit from linseed, which contains Omega 3s, widely recognised as one of the most 'heart-healthy' substances in the world.
Gluten Free and Delicious
Linseed teff bread makes a refreshing change from conventional wheat bread or standard gluten-free loaves. It offers a pleasant, nutty flavour, which works equally well as part of a sandwich, or toasted for breakfast.
Tip: Delicious thinly sliced with a spread of honey
Ingredients
Teff flour, linseed, sunflower oil, gluten free yeast, xanthan gum, water.
Please note that all perishable items such as bread and enjera will be sent out on Mondays and Tuesdays (beginning of the week) only.